Kitchens that pack a punch are still very much in demand, whether they achieve this effect through the daring use of color, dramatic textures, or stunning shapes. Here are our favorite modern kitchen concepts for 2022.
Three is a Favoured Number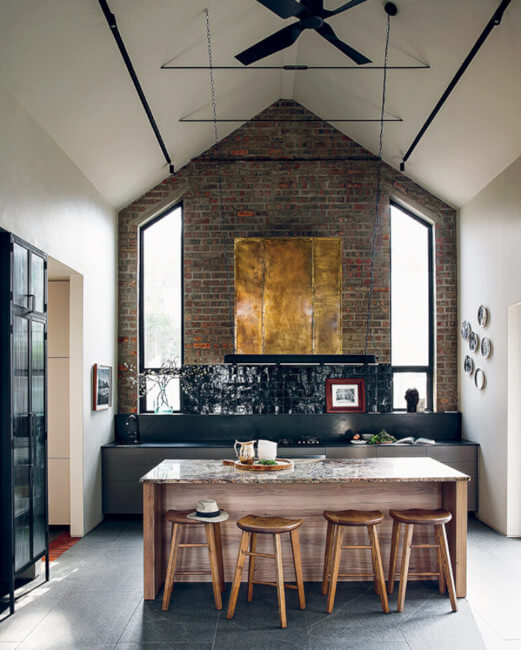 Wood, marble, and metallics remain popular and successful material trio in kitchen design. This magical trio brings the perfect mix of coziness, richness, and functionality into a room, allowing it to operate beautifully while simultaneously exuding an air of opulence. Atelier (Top) has chosen a dramatic island made of solid marble for maximum effect, whereas Studio 19 (Above) has opted for a softer look on the island but incorporated another stone variation for more dimension. Both designs are featured in the same double-volume area. Accents made of wood and metal are beautiful additions to either one.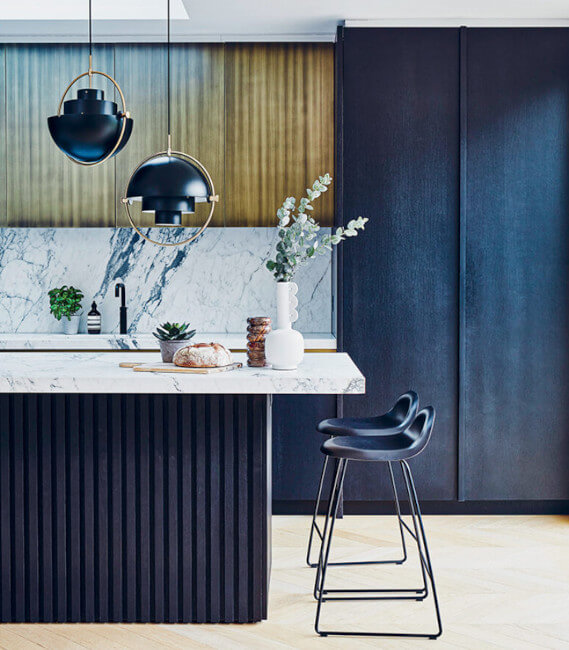 The store Blakes London has made highly astute use of the "triple threat" of marble, wood, and metallics by also alternating dark and light tones, as well as linear and round designs. The result is a harmonious equilibrium that is classic while being interesting.
A High Shine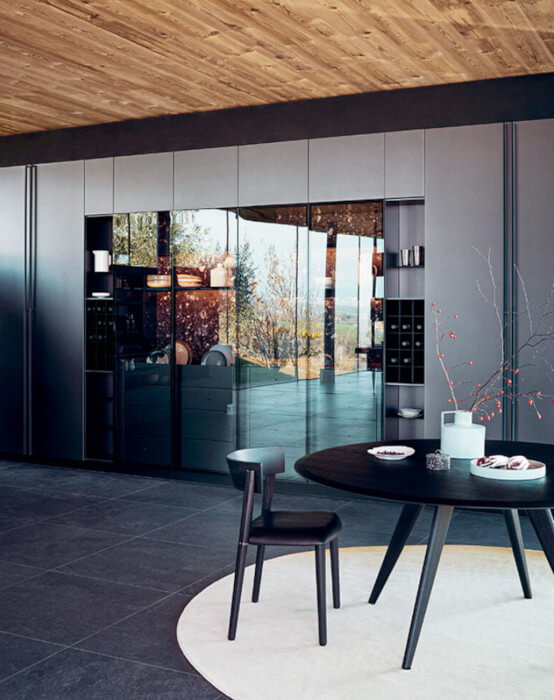 Adding a dash of shine to a kitchen up the stakes in terms of the room's glamorous potential. For variety in both pace and texture, the kitchen pictured above, which was designed by Cesar, skillfully mixes matte and shiny finishes by combining timber cabinets with tinted windows. It is unexpected, and it is done to an extremely high standard.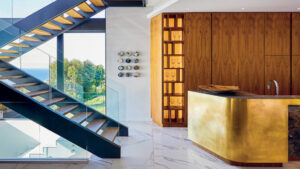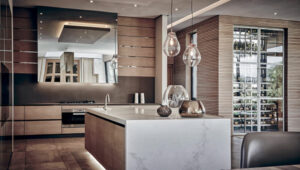 Metallics, whether traditional gold or modern chrome, are an instant improvement and nothing else quite captures the essence of luxury quite the way they do. The metallic coating is highlighted in the ARRCC kitchen by the deft application of warm colours and blonde wooden cabinetry. By blending metallics with polished stone and glass, BluLine (on the right) has created a high-octane glamour effect by layering several sorts of polished surfaces.
Inside Out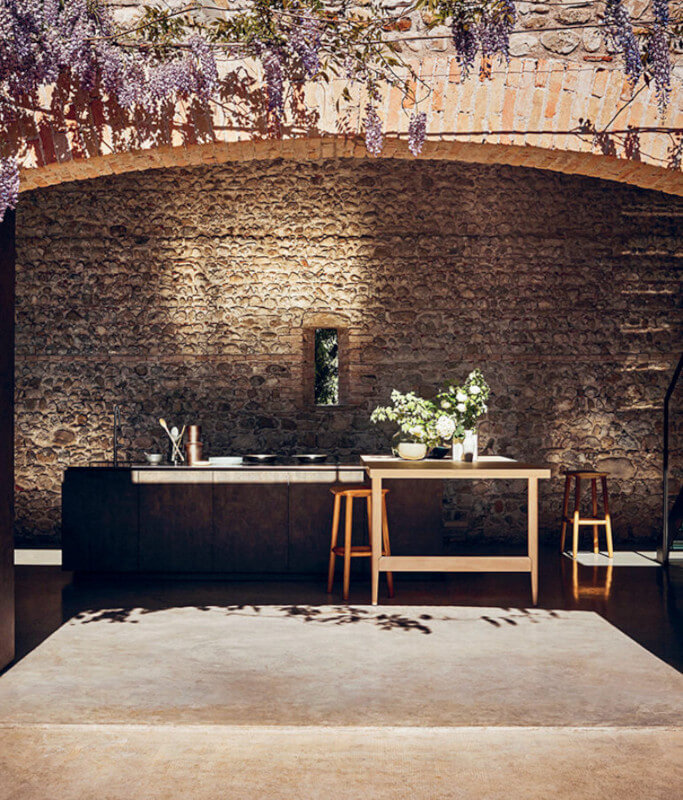 You can establish a cordon bleu installation pretty much anywhere, due to mobile equipment and great improvements in technology; Cesar's Maxima design looks appropriately naturalistic in an open patio.
A Natural Palette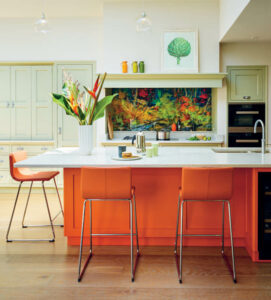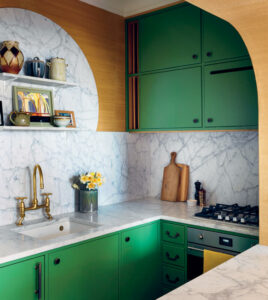 It is no longer viewed as outlandish to use color in a kitchen, and interior designers are increasingly moving away from the comforting constraints of neutrals or blue in favor of a rainbow of colors inspired by fruits and vegetables. Apple-green cabinetry, marble countertops, and wood floors give Beata Heuman's (right) kitchen a clean, sophisticated look and feel. Martin Moore (on the left) has used citrus tones to their full potential, which results in an impact that is invigorating and energizing.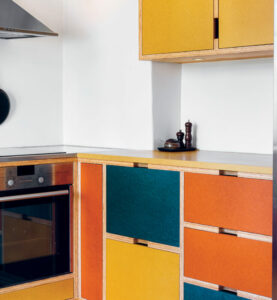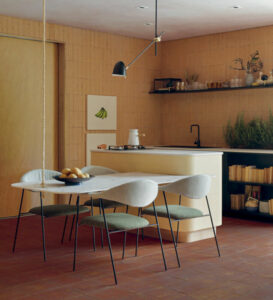 When building this color-blocked Stockholm kitchen, designer Perniclas Bedow took inspiration from the autumnal hues of maple leaves, while interior designer Melina Romano (right) used a variety of soft pastels to make a cocooning room. Melina Romano's creation can be seen on the left.
The Comeback Of Rounded Corners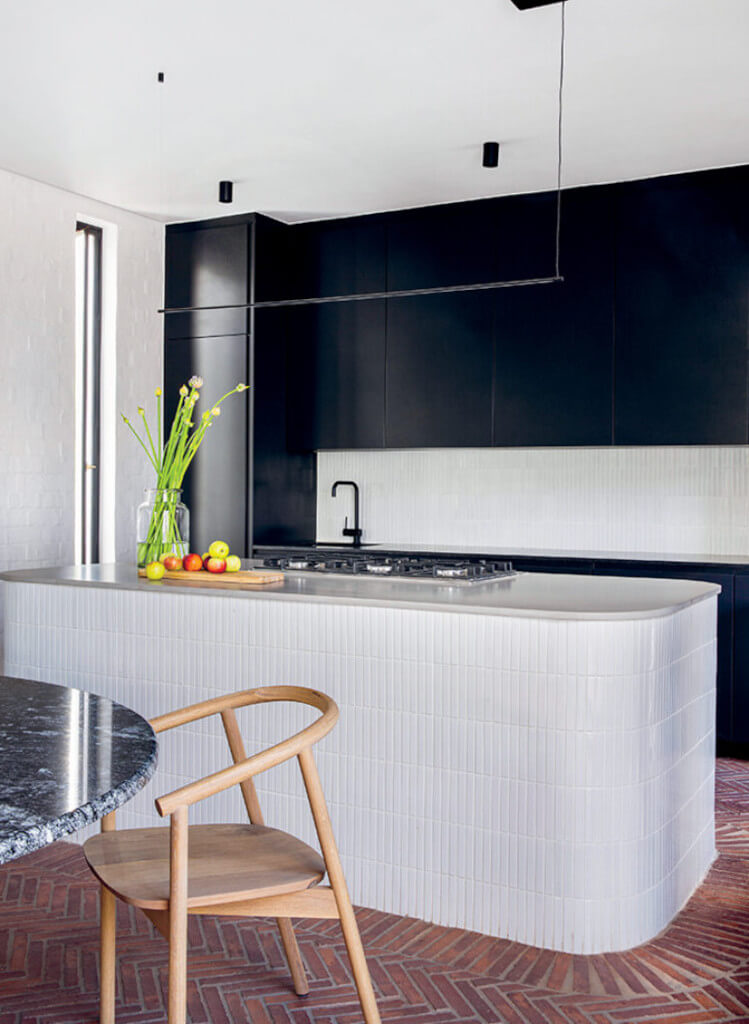 In this room designed by Hendre Bloem for STIL (above), you can notice a comeback to rounded corners, which is a reference to the enduring appeal of Midcentury designs. Rounded edges provide an appealing contrast to the precise, sharp edges that are typically found in a kitchen.
A Dark Take on Kitchens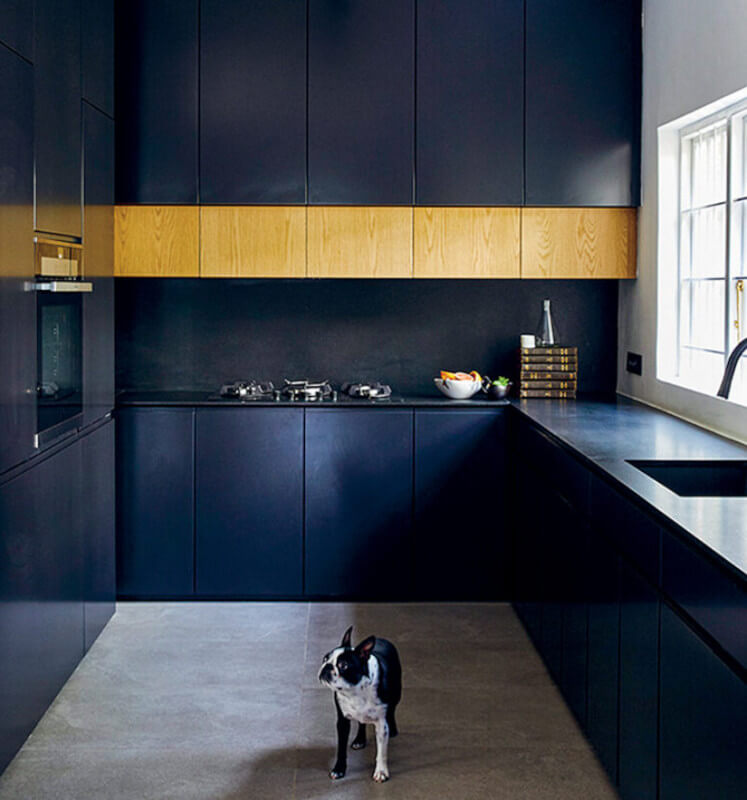 It may seem paradoxical, but kitchens that are darker can sometimes have a cozier and more inviting atmosphere than those that are starkly white. It does come back down to selecting the appropriate textures and ensuring that there is harmony between them all. One Design and Development (above) took the audacious decision to employ nearly whole black throughout the space, which, as a result of its homogeneity, ultimately makes it appear larger. They added a single narrow strip of light-colored cabinetry to it as a central focus in order to prevent it from being too flat and give it some dimension.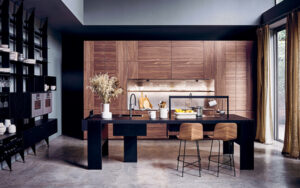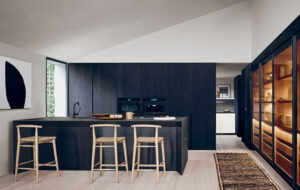 The dimension that was achieved in the kitchens designed by Arclinea (on the right) and Cesar (on the left) was accomplished primarily via the use of warmth and texture. In the first example, layers are added with glass-fronted cabinets illuminated from the inside, a vintage rug, and light wooden floors. In the second example, an organic appeal is achieved by allowing the grain of the timber to be utilized in opposing directions to shape a feature, which reveals a more rustic appearance.
Stay True to the Grain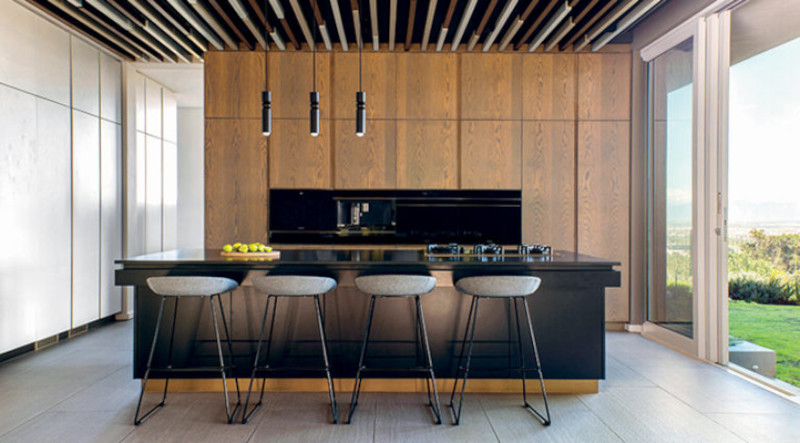 Warm, textured, and offered in a wide variety of tones and grains, timber is a time-honored material for a kitchen. However, as a result of recent advancements in reinforced surfaces and modern finishes, it is no longer considered to be synonymous with rustic design. Hendre Bloem (shown above) added linear features to create a geometric impression on a wall that was composed of wooden components in order to separate the width of the wall.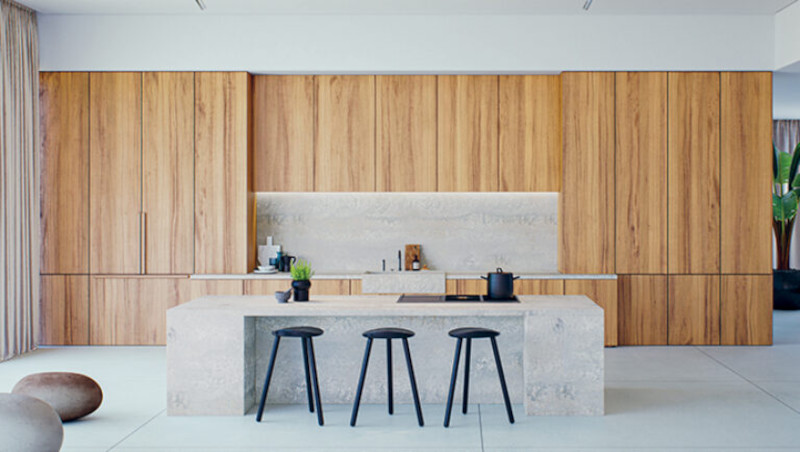 The Caesarstone design strikes a harmonious relationship between stone and wood in terms of temperature.
Contemporary kitchen design has become increasingly popular in South Africa in recent years. This trend is characterized by clean, modern lines, a focus on functionality, and the use of high-quality materials. Here are some of the key features of contemporary kitchen design that you might want to incorporate into your own kitchen:
Sleek and modern cabinetry: Contemporary kitchen design often features minimalist cabinetry with sleek, clean lines. This style of cabinetry is typically made from high-quality materials such as stainless steel, glass, or wood, and it is often finished in a neutral color such as white or gray. This type of cabinetry can help to create a modern, sophisticated look in your kitchen.
Large, open-plan spaces: Contemporary kitchen design often incorporates large, open-plan spaces that allow for plenty of natural light and easy movement throughout the space. This type of layout is particularly popular in South Africa, where outdoor living is a key part of the culture. By incorporating large windows and sliding glass doors, you can create a seamless connection between your kitchen and outdoor living areas, making the space feel even larger and more inviting.
Smart, functional storage solutions: Contemporary kitchen design is all about functionality, so it's important to have smart, functional storage solutions that can help you keep your kitchen organized and clutter-free. This might include pull-out drawers and shelves, built-in organizers, and clever storage solutions for small appliances and pantry items. By carefully planning your storage, you can create a kitchen that is both beautiful and highly functional.
High-quality appliances: Another key feature of contemporary kitchen design is the use of high-quality appliances. This might include stainless steel refrigerators, ovens, and range hoods, as well as high-end coffee makers, blenders, and other small appliances. Investing in top-of-the-line appliances can help to make your kitchen more efficient and enjoyable to use, and it can also add to the overall aesthetic appeal of the space.
Natural materials and finishes: Contemporary kitchen design often incorporates natural materials and finishes, such as wood, stone, and concrete. These materials can help to add texture, warmth, and visual interest to the space, and they can also help to create a more sustainable and environmentally friendly kitchen. Whether you choose to use wood for your cabinetry, stone for your countertops, or concrete for your floors, incorporating natural materials into your kitchen design can help to create a beautiful, modern space that feels warm and inviting.
Overall, contemporary kitchen design is all about creating a space that is sleek, modern, and highly functional. By incorporating the key features mentioned above, you can create a beautiful, contemporary kitchen in your South African home that is both stylish and highly functional.